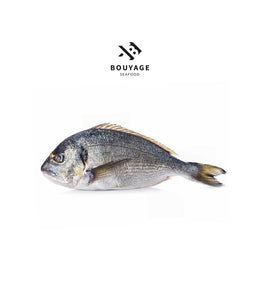 Sea Bream Fish - سمك دنيس منظف
Net weight is subject to decrease by 10% - 20% after scaling and gutting.
Sea Bream: it's big flavor! Widely considered by chefs to be the tastiest of all fish, Mediterranean sea bream has a wonderfully clean taste and satisfyingly meaty texture. Although it is not considered to be an oily fish, sea bream has a higher fat content than other white fish and can be considered a valuable source of omega 3 fats.

Recipe: https://www.realgreekrecipes.com/greek-oven-baked-sea-bream-recipe/

---
We Also Recommend
---